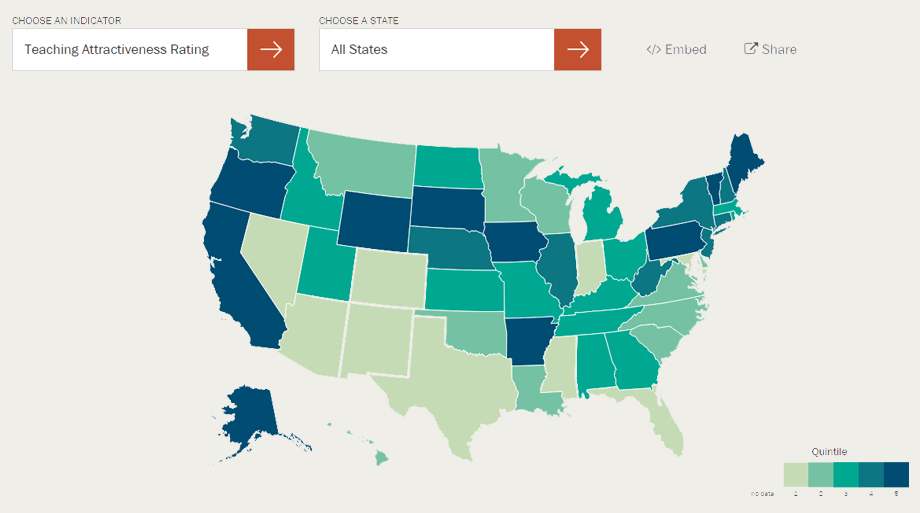 New Measure of How Attractive States are for Teachers Puts Nevada Near the Bottom
Could This Explain Our Teacher Shortage?
The Learning Policy Institute (LPI) recently released a new study detailing key factors that affect teacher supply and attrition. The analysis of all 50 states puts Nevada in the bottom quintile.
The study, "A Coming Crisis in Teaching? Teacher Supply, Demand, and Shortages in the U.S.," looked at several factors and calculated a "Teacher Attractiveness Rating" for every state. Nevada scored 2.7 out of 5, with low scores in several key indicators, such as "Working Conditions," which included low ratings in "Pupil-Teacher Ratio," "Classroom Autonomy," and "Collegiality Within School." In the area of "Teacher Turnover," Nevada scored low in "Left School or Profession" and "Plans to Leave Teaching." See all of Nevada's ratings here.
The study also calculated a "Teacher Equity Rating" for every state, and Nevada scored a 3 out of 5 in this case. The state again garnered low marks in "Ratio of Inexperienced Teachers in High vs. Low-Minority Schools" and "% of Inexperienced Teachers in High-Minority Schools."
Nevada has struggled for years to attract and retain teachers, and has had to quickly fill many vacancies and raise class sizes to meet the staffing demands of the current school year. While the LPI study shows that many states are experiencing teacher shortages, Nevada falls squarely in the bottom fifth of the country.
The study notes that teacher supply is not keeping up with teacher demand, which is increasing:  "Based on the evidence available, authors identify four main factors that are driving the emerging teacher shortage: A decline in teacher preparation enrollments, district efforts to return to pre-recession pupil-teacher ratios, increasing student enrollment, and high teacher attrition."
In Nevada's case, less than ideal working conditions and a growing student population, especially students who are English language learners, are prime contributors to the teacher shortage. The result is over-crowded classrooms and students who don't receive the services and the attention they need to succeed in school.  It's clear that attracting and retaining quality teachers is enormously important. Let's hope the LPI study can be a wake-up call for everyone who cares about public education in our state.