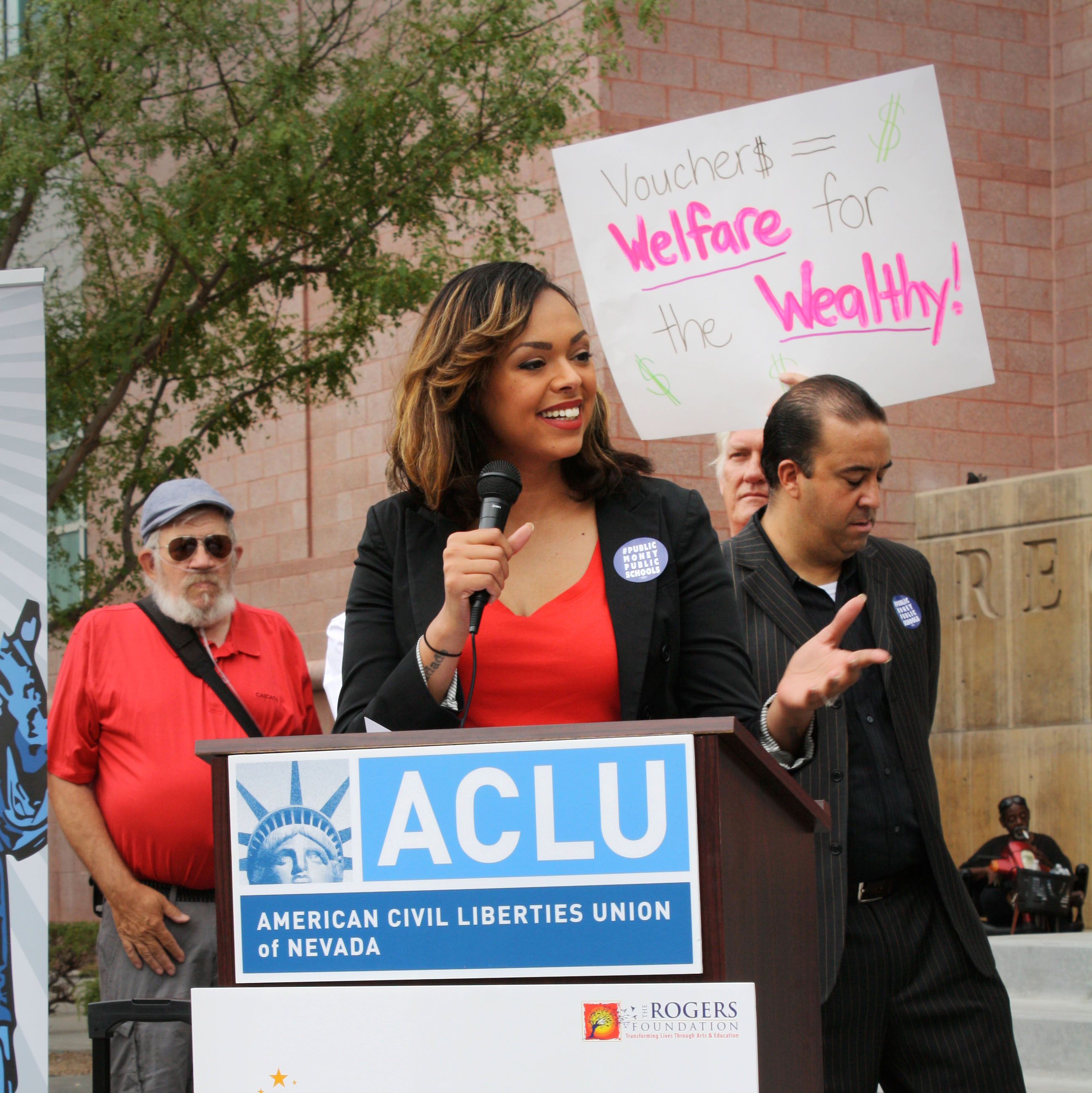 Community Rallies Around Plaintiffs Challenging Vouchers at the Nevada Supreme Court
On July 29, 2016, a large rally gathered outside the Nevada Supreme Court at the Regional Justice Center in downtown Las Vegas to show support for the brave parents who are challenging Nevada's controversial ESA voucher program.  The voucher program would divert millions of taxpayer dollars away from public schools and into private schools and for other private expenditures.  A brave group of parents challenged this unconstitutional use of public school dollars in Lopez v. Schwartz, one of two cases fighting the voucher program.  The Nevada Supreme Court was hearing oral arguments  as to whether to maintain the injunction that halted the voucher program back in January.
Some came to the rally as mothers and fathers of children in public schools; others came as Nevada taxpayers upset with the reckless and unconstitutional use of public dollars; yet others were teachers, concerned with the loss of resources, and how this drain of public dollars would further hinder their ability to teach. Students lined the sidewalk and held up signs reading "Kids, Not Profits,"  "Don't Take Away My Education," "#ReverseRobinHood."
Electra McGrath-Skrzydlewski and her family embody the sentiments of those attending the rally.  She is a mother of two daughters, an infant and a child in public school.  Her husband is a long-time public school teacher who is passionately dedicated to his job and his students.  They are Nevada taxpayers who feel public dollars should stay with public schools, and not be diverted to an unregulated, untested, and unaccountable voucher program.  Electra also represents the tenacity and bravery of those in attendance, as she chose to lead the challenge the vouchers as a plaintiff in Lopez v. Schwartz.
As her husband bounced their four-month-old daughter on one arm,  Electra proclaimed, "Nevadans are taxed to fund a 'uniform system of common schools, [the vouchers] are fundamentally unconstitutional."
Electra and those in attendance not only care about their families, but they are taking a stand for their community and their state.  Learn more about Electra and other courageous community members who decided to strong public schools and a quality education for all children. 
Join the cause!  Sign up to receive important information about Educate Nevada Now's initiatives and how you can get involved.
Educate Nevada Now, powered by The Rogers Foundation, is a non-profit coalition of partners dedicated to ensuring all students, regardless of wealth or background, have the opportunity to succeed.