Nevada is facing severe financial challenges due to the Covid 19 recession 
BUDGET CUTS THAT AFFECT CHILDREN
The unexpected recession means the Nevada legislature must reanalyze its budget and will meet in a special session beginning July 8 to decide on the best ways to make cuts. 
You can stream the meetings live on their YouTube Page   or on their streaming service here.
The Governor has proposed $166 million in cuts to K-12 public schools. Given that K-12 makes up more than a third of Nevada's budget there was likely little chance of education being completely spared. We acknowledge that of all the departments, K-12 has been proportionately cut the least. However, after years of being ranked towards the bottom in per-pupil funding and not having funding restored to pre-2008 recession levels, these cuts will result in a huge setback for our students at a time when they need even more resources.
While it seems the majority of the proposed cuts are to categorical programs, they have real impacts to the academic success of students and are a tremendous defeat of years of good progress and initiatives.
The following is a snapshot of what is proposed: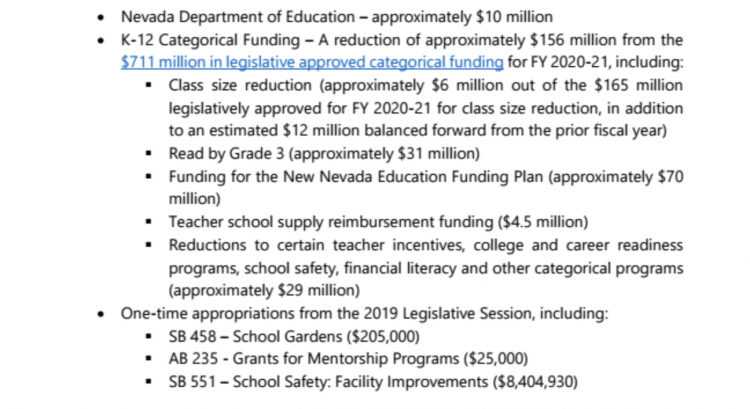 Source: Governor Sisolak Nevada Covid 19 Fiscal Report
Wednesday July 8, 2020
Special Session begins at 10 a.m.
For a detailed list of proposed cuts to K-12 click here. 
To view the Executive Budget presented at the meeting click here.
To view total statewide proposed cuts Click Here
What proposed cuts mean for schools:
Class Size Reduction

– Funds used to support school districts to support appropriate class sizes.  Even with this funding, Nevada has some of the highest class sizes in the country. $6 million out of $156 million.

Read By Grade 3

– Funds used to provide services for students in grades K-3 who are struggling in reading. Resources include reading specialists, tutoring, parent reading resources and after school reading programs. $31 million (The entire appropriation for the 2020 FY). Currently, less than 50 %

 of students are proficient in reading by fourth grade. Click here for a report with list of schools receiving RBG3 funds. (Beginning on pg. 14 of report)
Funding For New Nevada Plan SB178– Funds used to support underperforming English Learners and at-risk students who do not attend Victory or ZOOM schools with $1,200 per pupil, a project towards reaching weighted funding for students. $70 million entire funding for FY 2020. This was supposed to be critical funding as the state transitioned to a weighted funding formula. For a list of schools receiving SB178 funding click here: sb178distributionlist
Teacher School Supply Reimbursement

– Reimbursement for teachers for up to $180 for school supplies. Entire appropriation.  With supply costs likely to increase to meet the heightened safety requirements, this hard found appropriation will put additional strain on educators.

Facility improvements–$8.4 million – funds provided to make facility improvements at CCSD and WCSD for safety and security via a 2019 safety bill SB551

Reimbursement for teachers for up to $180 for school supplies. Entire appropriation.  With supply costs likely to increase to meet the heightened safety requirements, this hard found appropriation will put additional strain on educators.

Teaching Incentives – $5 million. Incentives for continuing teaching at Title 1 schools (low income), incentives for new teachers at Title 1 and to transfer to Title 1 schools.
End of Course Exams – $1 million. Funding needed to carry out end of course exams for high schoolers.
Teach Nevada scholarship – $1.7 million. Scholarships for Nevada teacher preparation programs with a requirement to obtain an endorsement to teach English as a Second Language or an endorsement to teach Special Education.  (Restored in amendment)
While we face devastating cuts, several state legislative bodies such as California and Arkansas have committed to not making any cuts to schools and other critical resources, while Utah and Maryland have actually proposed increases for schools to help with the additional costs of online and blended learning. 
We will be closely observing all the proposals and amendments that impact K-12 schools during the special session keeping in mind that districts have stated that any cuts to public schools could put even partial school reopening plans at risk causing schools to be virtual only.
A PATH FORWARD – GETTING INVOLVED
Public education is not alone in facing devastating budget cuts.  Other essential resources, such as cuts to critical medicaid services and mental health services, will face budget cuts.  This impacts children and families throughout the state, particularly those who are most vulnerable.  
The current crisis puts state lawmakers in a difficult position.  None of these decisions are easy, and it's necessary to adjust the budget to meet this challenging moment.  But beyond the short term, we cannot simply "cut" ourselves out of this economic and health crisis. We support the Governor and lawmakers in forging a path forward by considering ways to create a more adequate and reliable revenue structure. We need to lay a foundation for growth, prioritize those most in need, and update our antiquated revenue structure to support a Nevada we can all be proud of.